Wilkinson Building Advisors (formerly Wpg Ltd) is in ongoing conversations and exchange of documents with the several government and private investors in connection with creating several demonstration projects in the upper Midwest.
The concept is that these projects would engage several intersecting technologies to create low carbon footprint buildings. These technologies are:

Glue laminated mass timber frames (Glulam) and cross-laminated (CLT) timber floor systems and shaft walls (to resolve lateral loads)
Structural integrated panels (SIPs) for exterior wall and roof panels (structural integrated panels)
Interior climate systems (energy exchange, distribution, and ventilation) including technologies to measure/control/report energy consumption in hydronic systems

Computer-based design and manufacturing control systems

The combination of the these systems is synergist with respect to reducing the carbon footprint of these buildings:

Sequestering CO2 in the timber products
Avoidance of energy expended in concrete production and steel assembly fabrications when appropriate
Application of enclosure systems designed for extreme climates
Design of indoor climate systems based on passive, sustainable solutions and using systems avoiding combustion based energy exchange

"Tinker-Toy" precast concrete assemblies for podiums and selected lateral load resisting systems
"Building in a box" construction management techniques; sequential shipment to tight sites, erection by small efficient crews
A high degree of off-site completion for the "kit of parts" as well as modular assemblies

The scale and geographic distribution of these projects is intended to showcase the possible and bring the market to a tipping point. These initiatives target 2 prototypical markets

Urban, infill, mixed use; small scale, 40-75,000sf, 3-5 stories; suitable for building in congested and complex urban environments
Private higher education, classroom addition or environmental science building; embodying the sense of mission of the institution

Here are snippets of the ideas from Woodworks, a leading building advisory group: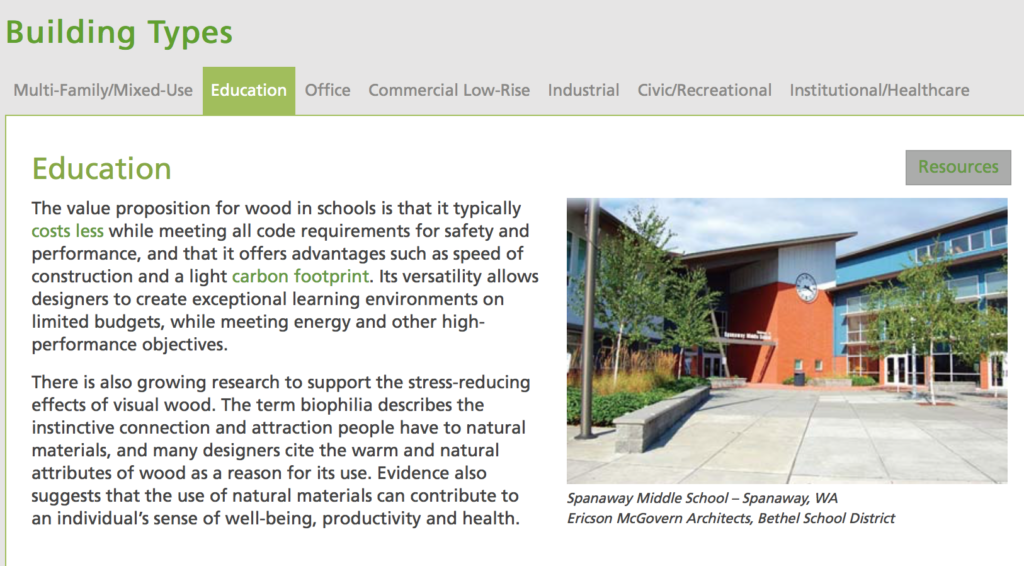 This author believes that demonstration projects, well executed, can attract the attention of both policy and market-makers. The walk-through, "touch and feel" experience of these proposed and delightful places can be compelling. As the marketing folks would say: it makes the intangible… tangible.
This is a chance to engage a far-flung industry to plan for the benefit of the planet and the quality of life in the upper-midwest. Join the movement!